Culture Building – Gift Boxes for Peak Health Solutions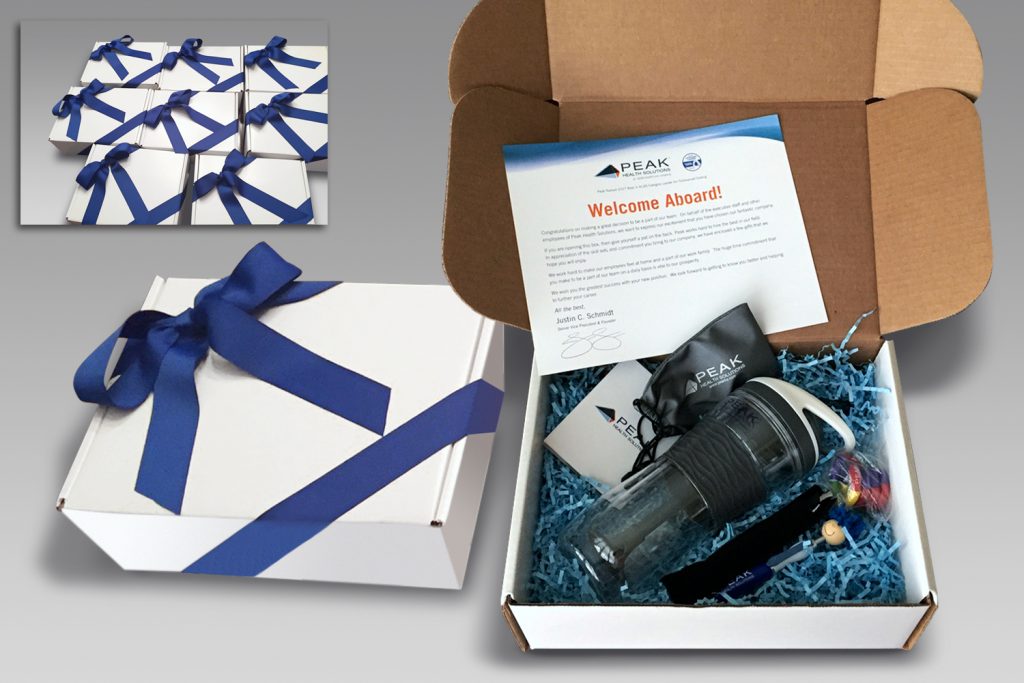 Challenge:
Peak Health Solutions, Inc. is a leading national provider of mid-revenue cycle solutions to acute care and physician practice markets. Peak is always keenly aware of building a positive culture. It's a primary part of
building their brand
. They are constantly hiring new coders and health information management (HIM) experts to serve clients. Since team members are their primary resource, Peak prides themselves on taking care of their employees and showing them special appreciation. They came to XK3 looking for a way to provide a warm welcome to newly hired team members. The project needed to be cost-effective but still make a distinct impression upon new team members.
Scope:
Conceptualization, Brand Building, Culture Building, Art Direction, Content Development, Design, Print Production, Project Management, Monthly Fulfillment
Solution: Culture Building – Gift Boxes for Peak Health Solutions
XK3 collaborated with Peak to develop a beautifully crafted gift box filled with Peak branded items along with a welcome letter from their Senior Vice President & Founder, Justin Schmidt. We felt that sending an individualized gift to a new hire was the best way for Peak to say "we appreciate you and are so glad you are on our team."  Peak works hard to find and hire the best in their field, and this inviting welcome was another way to let new employees know just that. These gift boxes became an ongoing monthly project for new team members brought on board. The results have been gratifying. Peak works hard to create a positive culture and always improve so that they remain a great place to work. These gift boxes established from the beginning of each relationship the warmth and teamwork that is the heart of Peak's culture.