Office Branding – SSI Claimsnet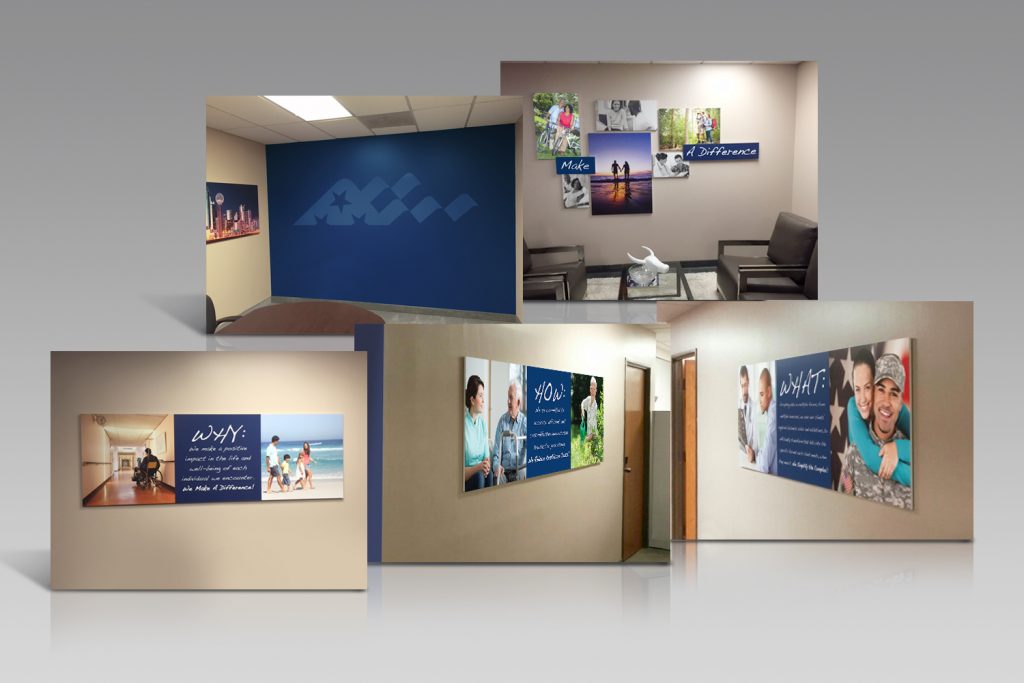 Challenge:
SSI Claimsnet came to XK3 to help them define a deeper purpose behind their everyday work. They wanted to inspire their team and build a positive culture through a unique office branding project. They were looking both for the purpose itself and creative ways to share it. What Claimsnet did was standardized medical claims coming from many different sources for payers. They made standardizing these inbound claims simple and efficient. Claimsnet was excellent at what they did, but leadership wanted a deeper meaning behind their work. The challenge was to define this purpose and bring it to life. It needed to be clear and vibrant so employees and clients alike could relate to the message.
Scope:
Art Direction, Conceptualization, Content, Design, Installation, Interior Office Branding, Print Production, Project Management
Solution: Office Branding Project for SSI Claimsnet
We started with the purpose. Inspired by Simon Sinek's "Start with WHY", we worked with leadership to discover their distinct WHY, HOW, and WHAT. The WHY is the deeper purpose behind why the company exists. Everything they do should reflect this purpose.
It took some work, but we helped Claimsnet uncover their deeper purpose. Once we had a solid WHY, HOW, and WHAT we brainstormed creative ideas for displaying the message. The goal was for employees and clients to soak this message in every day. The message needed to be visible and prominent in the workspace.
Claimsnet wanted to "Make A Difference' in the lives of everyone they encountered. By doing their jobs well, Claimsnet was doing just that. Efficient claims delivery helped payers improve the lives of patients. After recovery, patients could focus on things more important than bills. They could focus on the joys of family and living.
We helped design a rebranded the Claimsnet office space with inspiring messages of encouragement. They had been making a difference all along. The only difference was no one had put it into words.
The results were outstanding. Everyone loved the final pieces depicting before and after moments of patient care. These pieces reinforced the core message. Claimsnet was making a difference in the lives of patients. Through encouragement, they were also making a difference for each other.