Inbound Marketing – Meridian Website Redesign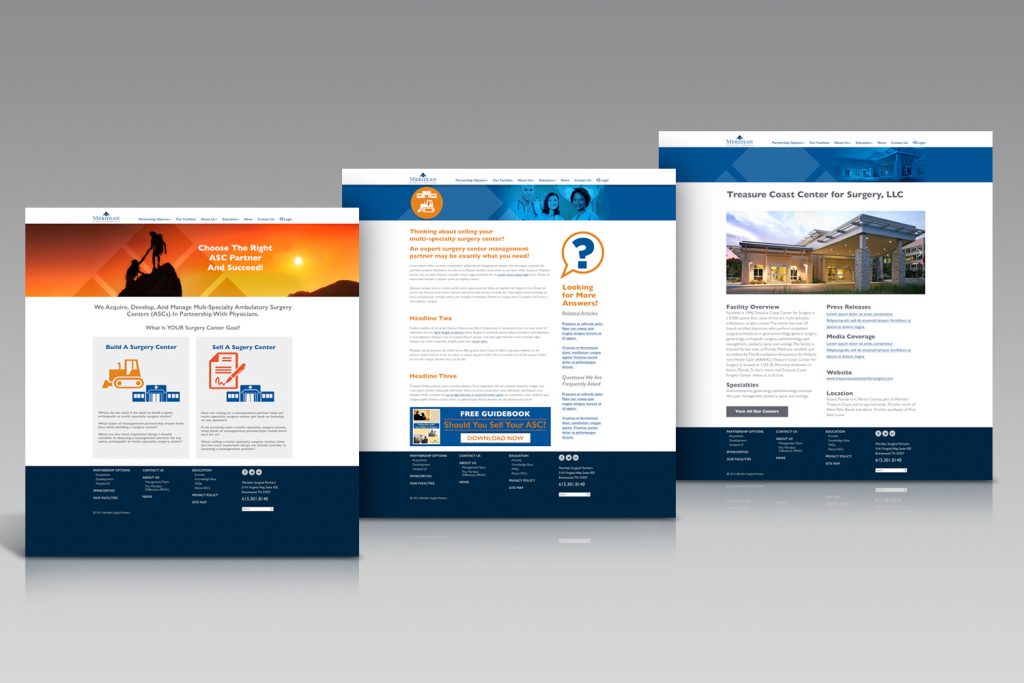 Challenge:
Meridian Surgical Partners, a management firm for ambulatory surgery centers, was overdue for a new website. They turned to XK3 for a new design and a fresh content strategy. After initial discussions, it seemed Inbound Marketing was a perfect fit for several reasons. First, HubSpot, a platform for executing inbound marketing strategies, had hosted the Meridian website for years. Furthermore, Meridian had only implemented a partial inbound strategy, but they did understand the value inbound could provide. Finally, the new HubSpot Content Optimization System (COS) had just launched. This made it a perfect time create new, simplified templates. Together, XK3 and Meridian set out to apply inbound to a new design.
Scope:
Art Direction, Content Strategy, Design, Web Development, HubSpot, Template Design, SEO, Inbound Marketing
Solution: Inbound Marketing – Meridian Website Redesign
First, XK3 and the Meridian team audited all the original content. How well did each piece fit Meridian's three main personas? This was a critical step because a considerable amount already existed. Next, we mapped content to fit the natural progression for each persona's buyer journey. Our goal was to attract organic traffic at each stage. Finally, we crafted offers for more valuable content to convert visitors into leads.
With an inbound content structure complete, XK3 set out to create a fresh, simplified design. Our design goals included clean lines, pages that were easy to digest, and a fresh look. After the new design was approved, we then built HubSpot COS templates to fit all the types of pages the site would need. This process was invaluable. The template system made building and deploying a site prototype quick and efficient. These same templates would make it easy for Meridian to create new content later. Staging in HubSpot made reviews easy. The Meridian team could preview drafts and provide us quick feedback before launch.
Each page was optimized for keywords and SEO best practices.The inbound strategy also served as a guide for all future content. The final result was a beautiful new design with a clear message. The same templates used to build the site also made creating new content simple as well. The Meridian team had a crisp new site and an inbound marketing approach for future content.