Brand Awareness Campaign for MedHOK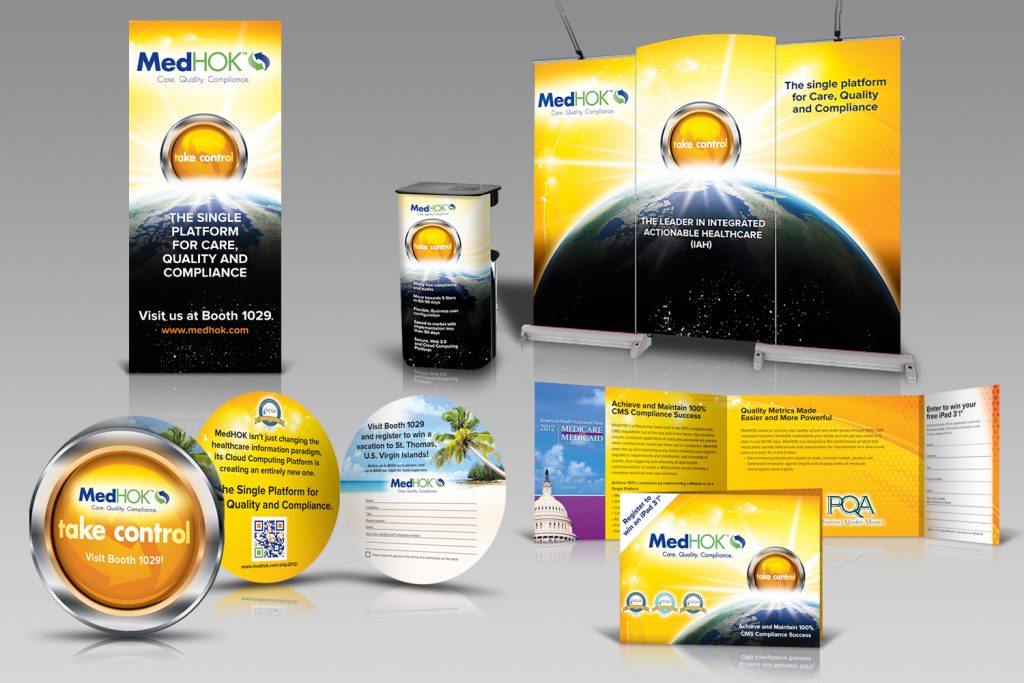 Challenge:
After completing a full rebrand, the next focus for MedHOK was to build brand awareness. They were only known to a few potential healthcare payer clients. They needed to make a splash to the rest. There was no better place to make that splash than the AHIP Institute. As the largest tradeshow for healthcare payers, AHIP was perfect to launch the new brand.
To make an impact, MedHOK needed a simple, catchy message. It needed to convey a confident and aspirational tone for customer interactions. One that not only alluded to what MedHOK could do but how they made customers feel.
The simple message was just the start. MedHOK also needed a variety of materials produced and a solid plan to make the most of AHIP Institute. Few prospects knew who they were before AHIP Institute. To be successful, MedHOK needed everyone to remember them after.
Scope:
Brand Awareness, Art Direction, Marketing Strategy, Concept Development, Design, Print Production
Solution: Brand Awareness Campaign for MedHOK
XK3 helped with almost every aspect of MedHOK's brand awareness efforts for AHIP Institute. The work started with brainstorming sessions that proved to be both fun and engaging. It ended with all the logistical details needed to promote MedHOK to the payer world.
The central theme that came out of those early meetings was a simple one. No one provided a single platform for Care, Quality, and Compliance the way MedHOK could. Customers could finally take control of their Care, Quality, and Compliance programs. MedHOK empowered them to do so. From that sentiment, Take Control became the theme that drove all creative efforts.
MedHOK's solutions were innovative and inspiring. Everyone agreed the look and feel of their marketing materials should convey both. What could be better than the dawning of a new day? One where their customers have the freedom to take control. The result was an eye-popping visual that stood out in a sea of green and blue healthcare brands.
Armed with a simple message, a new brand, and bold creative, MedHOK needed a plan. XK3 worked with MedHOK to create a booth, promote their presence, and make a memorable splash. Timely pre-show marketing and dynamic promotion during the conference made an impact.  Smart placement of materials in highly visible locations wowed visitors. In addition, XK3 even attended the conference with MedHOK to assist with social media and customer giveaways.
The results were a rousing success that has had a lasting, positive effect on the MedHOK brand. If prospects didn't know MedHOK existed before AHIP Institute, they certainly did afterward.